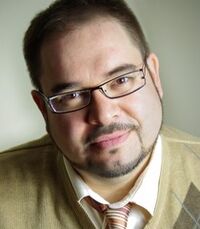 Andrew Toth is an actor, known for Scarface: The World Is Yours (2006), G.I. Joe: Valor vs. Venom (2004) and Mobile Suit Gundam Seed (2002). He is known for voicing Quintin in Slugterra.
Voices
Slugterra Roles
Other Notable Roles
G.I. Joe: Valor vs. Venom - Dusty
Hikaru no go - Kaga
InuYasha - Suzaku / Bun / Lizard Demon
MegaMan: NT Warrior - WackoMan
Mobile Suit Gundam Seed - Clotho Buer
Ad blocker interference detected!
Wikia is a free-to-use site that makes money from advertising. We have a modified experience for viewers using ad blockers

Wikia is not accessible if you've made further modifications. Remove the custom ad blocker rule(s) and the page will load as expected.