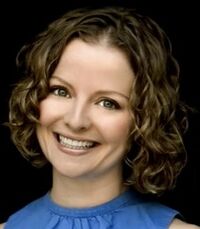 Anna Cummer is a Canadian actress from Vancouver, British Columbia, Canada. She is known for voicing Katherine McGregor in Slugterra.
Personal Life
Anna Cummer was born on January 2, 1977 in Singapore. She spent half of her adolescence in Southeast Asia and the other half in Saskatoon, Saskatchewan, Canada. She finished high school in Hong Kong at the French International School and studied drama in England where she completed two theatrical degrees.
Since returning to Canada in 2000, Anna has put her talents to good use as a voice-over artist, working in film and television, and performing in theatrical productions.
Voices
Slugterra Roles
Other Notable Roles
InuYasha - Serina
Iron Man: Armored Adventures - Pepper Potts
MegaMan NT Warrior - Miyu Kuroi/Mysteriyu
Mobile Suit Gundam SEED - Miriallia Haw
Monster Buster Club - Samantha
Ad blocker interference detected!
Wikia is a free-to-use site that makes money from advertising. We have a modified experience for viewers using ad blockers

Wikia is not accessible if you've made further modifications. Remove the custom ad blocker rule(s) and the page will load as expected.