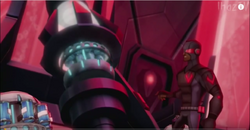 Dr. Blakk's goons are slingers that allied themselves with Dr. Blakk either for power, ghouls or rewards. Blakk employs hundreds of goons throughout SlugTerra to do his bidding, armed with ghoul slugs.
Named Allies/Employees
Gallery
Ad blocker interference detected!
Wikia is a free-to-use site that makes money from advertising. We have a modified experience for viewers using ad blockers

Wikia is not accessible if you've made further modifications. Remove the custom ad blocker rule(s) and the page will load as expected.