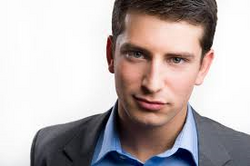 David A. Kaye is a Canadian-American voice actor who voices the young Dr. Blakk in the episode "Back to Blakk" and Twist in Slugterra.
Personal Life
David A Kaye was born on August 4, 1988 in Saskatoon, Saskatchewan, Canada.
Voices
Slugterra Roles
Other Notable Roles
B-Daman Fireblast - Kagero 'Ken' Ogami
LoliRock - Carlos
Mobile Suit Gundam 00 - Lichtendahl Tsery
NANA - Shinichi "Shin" Okazaki
X-Men Evolution - Multiple / Jamie Madrox
Ad blocker interference detected!
Wikia is a free-to-use site that makes money from advertising. We have a modified experience for viewers using ad blockers

Wikia is not accessible if you've made further modifications. Remove the custom ad blocker rule(s) and the page will load as expected.