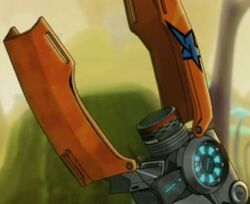 The Double Barrel and the Double Barrel Blaster is a specially made blaster modification made for Eli Shane's Defender Slipstream XVL to perform what's called a Fusion Shot.
Creation
It was designed by Kord Zane and modified by Red Hook for Eli. It uses a Vitalis Crystal to be able to do a fusion shot. It's made to connect to Eli's blaster and sling two slugs at the same time and synchronize the slugs' powers.
Operation
It's connected to Defender Slipstream XVL synchronized with it's center fusion core and uses a vitalis crystal to sling two slugs at the same time to do a fusion shot.
To do the fusion shot it uses a vitalis crystal to simultaneously: sling and bind the slugs' energy or aura.
There are only two downsides, it takes a while for the crystal to recharge and if used incorrectly can have dire consequences, like burning out normal slug energy.
Appearances
Gallery
Ad blocker interference detected!
Wikia is a free-to-use site that makes money from advertising. We have a modified experience for viewers using ad blockers

Wikia is not accessible if you've made further modifications. Remove the custom ad blocker rule(s) and the page will load as expected.