Dozer is a Slyren Slug who belongs to Eli Shane. Eli obtained Dozer in Snowdance Cavern in the episode Snowdance in order to lull a pack of ice ogres, and later the Hooligang to sleep.  Eli uses Dozer again in "Lightwell" to put a hive of Bees to sleep. He was used in "Keys to the Kingdom" while fighting El Diablos Nacho. He also appears in Buzzsaw in: Going to the Frientist, trying to scare/help Buzzsaw.
Known Moves
Protoform Abilities - Perimeter alarm, can mimic sounds.
Whistleer - Flies rings around opponent, create a sustained, ear-splitting scream.
Sleepytime - Strange trilling call puts opponent to sleep.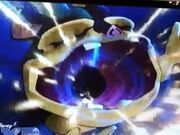 Appearances
Gallery

Slugs

Ad blocker interference detected!
Wikia is a free-to-use site that makes money from advertising. We have a modified experience for viewers using ad blockers

Wikia is not accessible if you've made further modifications. Remove the custom ad blocker rule(s) and the page will load as expected.