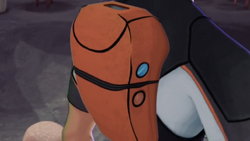 Eli's Backpack is a backpack that carries slugs and a fun place for Slugs to wait until Eli is ready to sling them. Slugs enter through a rectangular opening at the top of the backpack, while at the bottom of the backpack, there is a set of half a dozen slug tubes that rotate through their own mini chamber, launching each Slug tube out to Eli in turn.
While the Slugs wait, they have options such as exercising, dart throwing, sleeping, listening to music, and playing cards. Two windows in the side of the backpack let the Slugs see what's going on outside without having to leave the pack in dangerous situations.
Trivia
Gallery
Ad blocker interference detected!
Wikia is a free-to-use site that makes money from advertising. We have a modified experience for viewers using ad blockers

Wikia is not accessible if you've made further modifications. Remove the custom ad blocker rule(s) and the page will load as expected.