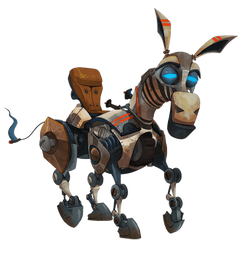 The FRND-O  is a model of Mecha-Beast. The Molenoid Pronto owns such a model, and has nicknamed it "Fernando".
Description
Don't let appearances fool you. Sure, the FRND-O may not look as flashy as some other Mecha Beasts. And, yes, sometimes it doesn't smell all that great either, thanks to an engine design that requires it to vent its rather potent exhaust through a large rear opening. But that design also gives the FRND-O the largest towing capacity on the market - it can out-haul Mecha Beasts twice its size.
Gallery
Ad blocker interference detected!
Wikia is a free-to-use site that makes money from advertising. We have a modified experience for viewers using ad blockers

Wikia is not accessible if you've made further modifications. Remove the custom ad blocker rule(s) and the page will load as expected.