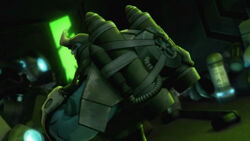 Jetpacks are technology used for flying in Slugterra. Kord made a jetpack to get to Trixie and Eli in The Thrill of the Game. He also made Jetpacks out of the Shane Gang's Mecha Beasts so they could fly up the Upright Cavern to assist Eli and Junjie in Return of The Elementals after the Fire Elemental was ghouled but they lost amo.
Appearances
Ad blocker interference detected!
Wikia is a free-to-use site that makes money from advertising. We have a modified experience for viewers using ad blockers

Wikia is not accessible if you've made further modifications. Remove the custom ad blocker rule(s) and the page will load as expected.