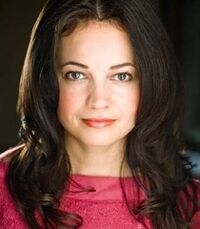 Maryke Hendrikse is a voice actress who works primarily for Ocean Studios in Vancouver, British Columbia, Canada. She is known for voicing Dana Por in Slugterra.
Personal Life
Maryke Hendrikse was born on February 23, 1979 in Nassau, Bahamas as Marÿke Hendrikse. She emigrated to Canada when she was 2 and a half years old.
Voices
Slugterra Roles
Other Notable Roles
Black Lagoon - Revy
Class of the Titans - Echo
Hikaru no Go - Mitani's Sister
Inuyasha - Tsukiyomi
Johnny Test - Susan Test & Jillian Vegan
Lego Nexo Knights - Ava Prentis
Lego Ninjago: Masters of Spinjitzu - Camile
Mobile Suit Gundam Seed Destiny - Lunamaria Hawke
MegaMan NT Warrior - Anetta
Ad blocker interference detected!
Wikia is a free-to-use site that makes money from advertising. We have a modified experience for viewers using ad blockers

Wikia is not accessible if you've made further modifications. Remove the custom ad blocker rule(s) and the page will load as expected.