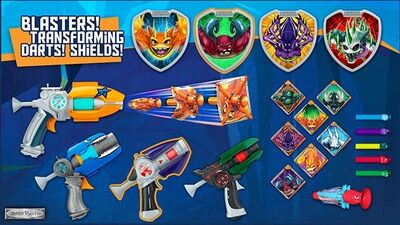 Dart Blasters
Darts include: Arachnet, Boon Doc, Flatulorhinkus, Frightgeist,Frostcrawler, Grimmstone, Hop Jack, Infurnus, Rammstone, Tazerling and Vinedrill.
Blasters include; Defender, Enforcer, Harbinger, and Growler.
Shields: Arachnet, Infurnus, Nightgeist and Rammstone
Figurines
Figurines come in two-packs and three-packs:
WAVE 1(January 2013)
2-packs
Rocky+Buzzsaw (Note: Buzzsaw is more pale than in the show)
Goober+Banger (Note: for some reason Goober's tounge is sticking out)
WAVE 2(June 2013)
Wave 3
Wave 4
Megamorph Chiller+Fire Elemental
Wave 5
Ad blocker interference detected!
Wikia is a free-to-use site that makes money from advertising. We have a modified experience for viewers using ad blockers

Wikia is not accessible if you've made further modifications. Remove the custom ad blocker rule(s) and the page will load as expected.