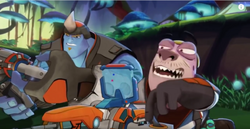 Protoformula One Racing is a remote control racing game where slugs sit in a little car wearing a small helmet with a signaling device on it. The car is then fired out of a blaster and the slingers use the controls to drive the slugs, which the signalling device picks up, just like a video game. This game can also be played using Slug Fu, without the use of technology. The cars also have airbags if they crash.
Appearances
Trivia
Racing isn't the only thing you can do, just like any remote controlled (wireless) toy vehicle, tricks, etc could also be preformed.
Gallery
Ad blocker interference detected!
Wikia is a free-to-use site that makes money from advertising. We have a modified experience for viewers using ad blockers

Wikia is not accessible if you've made further modifications. Remove the custom ad blocker rule(s) and the page will load as expected.