Ad blocker interference detected!
Wikia is a free-to-use site that makes money from advertising. We have a modified experience for viewers using ad blockers

Wikia is not accessible if you've made further modifications. Remove the custom ad blocker rule(s) and the page will load as expected.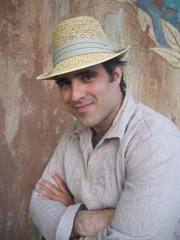 Sam Vincent is a Canadian voice actor who is known for voicing Eli and Will Shane in the Canadian TV series, SlugTerra, along with various other characters. He's also known for voicing several YTV series such as Martin Mystery as Martin Mystery, Rated A For Awesome as Les and Storm Hawks as Aerrow.
Personal Life
Samuel Vincent Khouth was born on October 5, 1971 in North Vancouver, British Columbia, Canada. He is a Canadian voice actor and singer who works with the Ocean Productions based in Vancouver, British Columbia, Canada. he started voicing from 1987-present.
Voices
Slugterra Roles
Other Notable Roles
Class of the Titans - Archie and Optus
Dragon Booster - Vociferous, Stewardd and Dorsull
Ed, Edd n Eddy - Edd/Double D
Inspector Gadget's Biggest Caper Ever - Looney Purkle
Kid vs. Kat - Larry
Martin Mystery - Martin Mystery and Billy
Max Steel - Steel, Bert Martinez and Avattack
Pac-Man and the Ghostly Adventures - Spiral, Betrayus and Stratos Spheros
Rated A For Awesome - Lester
Storm Hawks - Aerrow, Dark Ace and Spitz
Team Galaxy - Bobby and Spavid
Totally Spies! - Martin Mystery
Voltron Force - Pidge, Sypat, Dudley and King Alfor