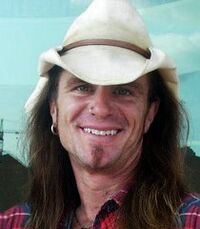 Scott McNeil is an Australian-born Canadian actor and voice actor. He has provided voices to many characters in animated shows, and has done live action work as well. He is known for voicing Mr. Saturday in Slugterra.
Personal Life
Scott McNeil was born on September 15, 1962 in Brisbane, Australia, but moved to Vancouver, British Columbia, Canada when he was 4 years old in 1966.
Voices
Slugterra Roles
Other Notable Roles
Class of the Titans — Atlas and Antaeus
Courage the Cowardly Dog — Baby EggPlant
Dragon Ball Z — Piccolo, Majin Buu, Old Supreme Kai, Android 16, Dr. Brief, Jeice, Turtle, South Kai, Dabura, Killa, Mercenary Tao, Farmer, King Piccolo and Mez
Dragon Booster — Cain
Edgar & Ellen — Grandfather
Fullmetal Alchemist — Van Hohenheim
Hot Wheels: Battle Force 5 — Grimian, Master Takeyasu, Tromp and Bruterax
Johnny Test — Mitchell "Bumper" Randalls, Mr. White, Zizrar, White Rook, Black Bishop, Kirk Kirkland, Bumper's Dad, Bishop, Rook
Kid vs. Kat — Agent Fudge Ripple
League of Super Evil — Voltar, Rock Gothlington, Destrucktor, Mayor, Old Man Jenkins, Fiyero Flambe, Freckled Kid, Night Shade, Globulous, Friendly Pa, Kinder Kreep, Mr. Nelson, Voltar Clone, Herb Geezler, Mrs. Bandango, Veterinarian, Mal, Commodore, White Knight, Blecch, Bolkar, Shushizilla, Shangri-Lava PA, Queen Ant, Nanny Bot, Skullossus Admiral and Seymour Sweat
Lego Ninjago: Masters of Spinjitzu — Karlof, Overlord, Arcturus, Stone Warrior and Clouse
Martin Mystery — You do Voodoo
Max Steel — Klean Kal
Ranma ½ — Principal Kuno, Daitokuji Kimiyasu and Ushinnosuke Oshamanbe
ReBoot — Hack (rest of Season 2 and Season 3), Specky, Mr. Andrew, Roller-blading Binome, Fax Modem, Jean-Luc Binome (some episodes), Guardian Bob Actor (Glitch Bob Actor), Enzo Actor, Megabyte Actor, Hack Actor, Slash Actor, Captain Capacitor Actor, Mechanic Binome, Dr. Frankenome, Viral Commander, Ash Williams User, Prospector Binome, Punk Binome, Barry, Praying Mantis Virus and Scientist Binome
Storm Hawks — Stork, Repton, Leugey, Advisor, Harrier, Steward, Blister, Arygyn, King Agar, Project Commander, Walder, Eyeball, Tritonn, Davey Digger and Rinjiin
X-Men: Evolution — Wolverine
Ad blocker interference detected!
Wikia is a free-to-use site that makes money from advertising. We have a modified experience for viewers using ad blockers

Wikia is not accessible if you've made further modifications. Remove the custom ad blocker rule(s) and the page will load as expected.