SlugTerra is a massive underground world which is inhabited by Slugs and many other creatures, and it's the main setting for the series.
About SlugTerra
SlugTerra is a massive underground world located beneath The Surface and above The Deep Caverns, and is the native home for all Slugs.
Before the events of Slugterra: Ghoul from Beyond, the "SlugTerra" term was previously used to describe The 99 Caverns, however since then it's been discovered that SlugTerra is a much larger place than previously thought and consists of many more Cavern sets.
Inhabitants
SlugTerra is largely populated with Humans and Slugs, however it's also home to a number of other species, both humanoid and otherwise.
There's:
However, not all these species can be found in all SlugTerran realms.
Occupations
Main article: Jobs
Slugslinging: Technically not a job, but it's a skill with much to offer in other professions and opportunity for others as well.
Security Slinging: Often disparagingly referred to as "mall cops", Security Slingers are a close-knit group who uphold justice in malls across SlugTerra and take their jobs very seriously.
Slingersmithing / Blastersmithing: Design, build and repair blasters.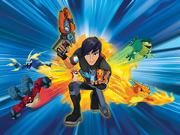 List of SlugTerras
The 99 Caverns - These were the series' original setting(s) and the home of Pronto, Kord and Trixie, and are/were protected by Eli & his family
The Eastern Caverns - These are the series' current setting(s) and are the home of Junjie and were/are protected by Junjie & his family
Other Locations
Main article: The Gateways#Destinations (Other Realms)
The Deep Caverns - technically not apart of SlugTerra but still part of the underground, this is the home of the Darkbane.
Gallery