SlugTerra Wiki
Welcome to the SlugTerra Wiki, a collaborative encyclopedia and database for everything and anything related to the Disney XD show SlugTerra. We are still growing since this wiki was founded. The wiki format allows anyone to create or edit any article, so we can all work together to create a comprehensive database for the SlugTerra franchise. Don't forget to visit this wiki's Guidelines before editing.
Note: This wikia contains spoilers!


There currently are 542 pages on this wiki.
Did You Know...
...that Molenoids have 2 brains?
...that Cave Trolls are the best engineers?
...that Molenoids hear using their noses?
...that the Hoverbug slug is the only slug that can fly while in protoform?
...that Billy appears in The World Beneath Our Feet part 1?
...that Dr. Blakk uses Dark Water to ghoul slugs?
...that in Slugterra they dont have Halloween or high fives?
...that Healer slugs are one of the rarest kinds of slugs?
...that Eli's Defender Slipstream XVL (orange blaster) is one of two of that model. His dad had the other.
...that the Gazzer, Sand Angler, Slicksliver, Slyren, Lariat, Fandango, Blastipede, Xmitter, Makobreaker, Lavalynx, Speedstinger, Hexlet, Forgesmelter and Enigmo slugs are some of the only slugs that have not been ghouled yet?
...that the rare Enigmo slug from "Endangered Species" made its first real appearance in episode 3 season 1 "The Trade"? In the scene where Eli is hiding behind one of crates looking for his Tazerling slug Joules, the cage next to where the crate Eli is hiding behind show the Enigmo slug? The slugs seen next to the Enigmo in the cage are one Frostcrawler slug and Polaro slug can also be seen in the cage.
...that Burpy was formerly part of Dr. Blakk's Arsenal?
...that all Ice Ogres can grow in size when anything angers them, and that the only slug that stop and calm Ice Ogres is the Slyren slug?
...that the only people to ever do a fusion shot are Eli Shane and Master Shanai?
...that ghouled Boon Docs are called "Goon Docs"?
...that the Cavern of Time still has Dinosaurs?
...that the light crystals found in Slugterra are made of Lumino Ore?
...that there are two types of Boon Docs a green one and white one?
...that there is one Infurnus in every Set of Caverns wielded by the protector of those Caverns
...that Doc is the Energy Elemental Slug?
...that Shorty and Glasses the two other members of The Hooligang speak for the first time in Slug Fu Showdown?
...that Pronto has currently lost his pants for a total of 3 times in the series?
Helping Out
To add more Did You Know, click here.
To write a new article, just enter the title in the box below.
News and Announcements
We're so excited to announce that a new season of Slugterra is coming, starting with the new movie, Slugterra: Eastern Caverns!
Note: The 4th Movie airs in Canadian cinemas August 15th 2015.
Featured Picture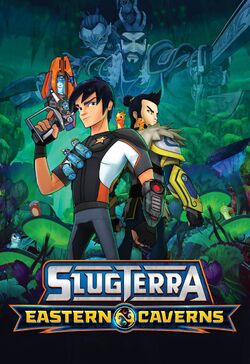 Featured Episode
Endangered Species:
Long thought to be merely a legend, an Enigmo Slug has finally been spotted. The bidding is high for this rarest of all slugs, and so is the competition to be the first grab it! Eli and the gang actually beat Slugterra's most vicious slug hunter to the prize--only to find that the hunter is now hunting them!
Monthly Poll
What are you most excited about in Slugterra: Eastern Caverns?