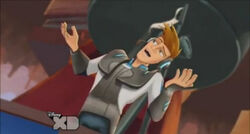 The Slug Run is the ultimate, off-road, no-holds-barred, cross-cavern MechaBeast race.
Information
This is an annual cross-cavern Mecha Beast race where anything goes, but slinging slugs at other racers is prohibited and the winner is rewarded with a unique slug.
Recent Races
The latest race featured a Crystalyd Slug as the prize and one of the caverns involved in the race was The Crystal Cavern.
Participants
Appearances