Slugterra (the show) is a 63 x 22 minute long Canadian animated TV series created by Asaph Fipke, which premiered on Disney XD (Canada) on September 9th, 2012 and later in the United States on Disney XD on October 15, 2012.
Production
Slugterra is produced by Canadian animation studio Nerd Corps Entertainment, now known as "DHX Studios Vancouver", a division of DHX Media. And has aired a total of three seasons with 59 episodes and will soon be airing a fouth season with 4 more episodes.
Synopses
Overall Series
CHOOSE YOUR AMMO... SLUG IT OUT!
Eli Shane is determined to be the greatest Slugslinging hero of them all! Only by collecting, training and dueling with little critters called SLUGS can Eli and his team hope to defeat the forces of evil. Did we mention the part where the slugs transform into powerful magical beasts? That part's awesome.
Slugterra is an epic sci-fi comedy adventure set deep underground, where the ammo's alive and only the quick survive! In this luminous, high-tech, underground world every cavern holds a new adventure, new battle and weird little slugs to be discovered!
The story follows Eli and his crew as they explore the caverns, challenge rivals and each other to friendly duels, upgrade their cool gear, and generally have a blast in this never-before-imagined underground world! But there is a very real threat to the world and the slugs; Dr. Blakk is seeking to "ghoul" the slugs, transforming them into feral mindless weapons! No one has been able to stand up to Blakk's powerful slugs and army of henchmen... until now.
Slugterra: Ghoul from Beyond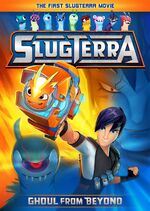 Just when the evil Dr. Blakk has been defeated and it seems like Eli Shane's duties as protector of Slugterra are getting easier, a new danger emerges from beyond the 99 caverns. Eli and the Shane Gang rush to the rescue, but nothing can prepare them for what they encounter: a slug that can do something no one in Slugterra has ever seen — or heard — a slug do before! Traditional slugslinging no longer applies — Eli will have to engage in a very different kind of duel to save Slugterra...and himself!
Slugterra: Return of the Elementals
A new member has joined Eli and the Shane Gang! Junjie, once the protector of the Eastern Caverns, is a master of the slugslinging art of Slug Fu! But even with the power of five slingers, the Shane Gang find themselves in over their heads as they race across the 99 caverns in search of the legendary Elemental Slugs. The five Elementals are ancient slugs of great power, and the forbearers of all slugs found in Slugterra today. In the wrong hands, they could bring Slugterra to the brink of destruction. So when an evil alliance starts hunting down the Elementals, Eli and his friends — old and new — take off in pursuit of the greatest threat their world has ever faced!
Slugterra: Slug Fu Showdown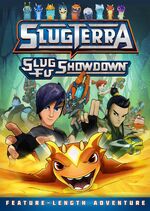 Eli has added some awesome new slugs to his arsenal: the ELEMENTALS. But the Elemental Slugs are ancient, extremely powerful, and temperamental, and Eli can't control them. Junjie, the newest member of the Shane Gang, has the solution: Eli must learn SLUG FU, the ancient form of slugslinging that Junjie mastered when he lived in the Eastern Caverns. Slug Fu is the art of guiding and controlling a slug in battle—a skill that only the greatest slugslingers can master.
But while Eli and Junjie train in isolation, separated from the Shane Gang and all of Eli's slugs, a mysterious new villain named Spirex unleashes an evil plan that will rock Slugterra to its core! All he needs to complete his plan are the Elemental Slugs! Luckily, they're safe with the Shane Gang...or they would be, if Pronto hadn't annoyed them so much that they ran away. As Kord, Trixie and Pronto struggle to keep the wily Elementals out of the wrong hands, Eli and Junjie engage in a showdown with Spirex before he can reduce the 99 caverns to rubble!
The Intro - Slugterra: Eastern Caverns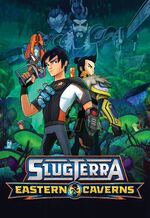 The time has come for Eli and the Shane Gang to accompany their new friend Junjie home to the strange and beautiful Eastern Caverns. But when they arrive, they are shocked to find a world darker and more dangerous than Junjie remembers. The sinister Emperor's henchmen have pillaged every cavern of its slugs, and without the slugs' energy, the Eastern Caverns have fallen into ruins. The stolen slugs are locked away in the heart of the Emperor's evil dominion—the imperial palace. Hordes of enemies stand between the Shane Gang and the slugs, from the mindless stone warriors to the Emperor's legions of underlords to the most dangerous of all—the Dai-Fu, a fearsome slugslinger and master of Slug Fu. But Junjie is determined to rescue the slugs, save his homeland and redeem the legacy he left behind while under the Emperor's control as the Dark Slinger—and with Eli and the gang at his side, he won't have to do it alone.
Overall Season
Eli and the Shane Gang help their new friend Junjie return to his home in the mysterious Eastern Caverns, only to discover that the sinister Emperor has been ruling with an iron fist for 20 years! The gang promises to help Junjie defeat the Emperor. It won't be easy going up against the Emperor's henchmen, army of stone warriors and arsenal of slugs twisted by dark magic. But with their own loyal, powerful slug buddies and the ancient slugslinging secrets of Slug Fu on their side, Eli, Junjie and the Shane Gang are determined to save Slugterra, and the Surface World, from the Emperor's diabolical plans.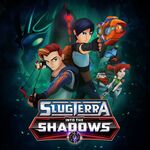 As the Shane Gang returns to the 99 Caverns from their Eastern adventure, they discover the Shadow Clan has decided to put slugs before the needs of the people. The Gateway Cavern has been overrun with slugs and it's up to Eli and the gang to restore balance. Met with resistance, help comes from an unexpected source – 13-year-old Tad and his slug Pieper, who just arrived from the Surface.
Characters
Eli Shane (voiced by Sam Vincent): Eli grew up on the surface, always dreaming of the day his father would take him down to Slugterra to become The Shane - a slugslinging hero who protects this amazing underground world from bad guys! When Will Shane goes missing, it's up to Eli to make the drop down to Slugterra alone on his 15th birthday, and learn how to become the greatest slugslinger of all. Despite his young age, his natural ability means Eli is the hottest new slugslinger in town.
Note: The series main protagonist.
Burpy — Infurnus Slug: There's one slug who stands out from all the others, Eli's best slug buddy BURPY. Burpy was part of Will Shane's arsenal until he was sent to find Eli right before Will went missing. He's Eli's faithful companion, an ultimate fire-based weapon and master slug strategist. He's also the general to Eli's army of slug buddies. Extremely loyal to Eli and cleverer than your average slug, Burpy's got slug moves most people have never even seen before!
Pronto — the Magnificent (voiced by Lee Tockar): A proud and knowledgeable molenoid tracker, Pronto is a master rogue, slugslinger and adventurer... or at least that's how he tells it. Molenoids have a built-in magnetic compass that means they can find their way almost anywhere. Unfortunately this has completely gone to his head, which is why Pronto's been kicked out of almost every cavern he's ever been to at least once!
Beatrice Sting — Trixie (voiced by Shannon Chan-Kent): The Shane Gang's resident slug expert, Trixie's dream is to make a documentary film all about the funny little creatures called slugs. Nobody in Slugterra seems to realize slugs have feelings, a chirp-based language, and a society all their own, but she's going to prove it to everyone in her one-minute Slugisodes! Her favourite slug is Bluster, her Tormato slug, but she likes to keep an eye out for unusual slugs and use them in new ways too.
Kord Zane (voiced by Andrew Francis): A huge cave troll (not that any of them are small!) Kord is a gear-head mechanic who fixes the team's mecha-beasts and upgrades their blasters. His favorite thing is to do is play practical jokes, usually on Pronto! He's pretty easy-going, and it's rare to see any of the typical Cave Troll Rage in Kord. This mountain of muscle has a big heart to match his giant biceps, but watch out! Kord's got a wicked slinging arm!
Junjie (voiced by Vincent Tong): Junjie grew up in the distant Eastern Caverns, an isolated region completely unknown to the 99 caverns that Eli protects. Like Eli, Junjie inherited the role of protector when he came of age. For centuries, his ancestors had used the ancient slugslinging art of Slug Fu to keep the Eastern Caverns safe. But one day, a threat came that even Slug Fu could not stop: an evil slug known as the Goon allied with the sinister Emperor. Junjie's battle with these evil forces led him to the 99 caverns, where he joined the Shane Gang until he can return home to the Eastern Caverns and end the dark reign of the Emperor!
Thaddius Blakk — Dr. Blakk (voiced by Mark Oliver): The owner of the powerful Blakk Industries, Dr. Blakk's business dealings have made him a rich and powerful man. Ultimately, his business is hiding his true purpose: to control all of Slugterra and destroy the magical slug energy that protects this underground world. A powerful slugslinger with a terrifying multi-shot Harbinger Firestorm blaster, Blakk has corrupted his slugs through the dark science of ghouling, turning them into ruthless shadows of their former sluggy selves.
Note: The series main antagonist.
El Diablos Nacho — Nacho (voiced by Brian Drummond): The massive slug-shooter of mysterious origins, with a hole in his heart that's bigger than the deepest, darkest pit shaft in all of Slugterra. As Dr. Blakk's "special operations" enforcer, El Diablos is summoned to talk sense into a "mis-informed" jury, or to persuade a potential "business partner" to sign a "most generous" offer. Wielding his massive Growler Kiloton blaster, El Diablos likes to use Nightgeist ghoul slugs in battle. Not that he needs them to put fear into his opponents, his creepy face does a good job of that on its own.
Gallery
Other
Ad blocker interference detected!
Wikia is a free-to-use site that makes money from advertising. We have a modified experience for viewers using ad blockers

Wikia is not accessible if you've made further modifications. Remove the custom ad blocker rule(s) and the page will load as expected.