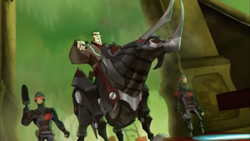 The TH1-DR is a special Mecha-Beast, a model exclusively made by Blakk Industries. Dr. Blakk owns one of these models. He has nicknamed his Mecha "Thundarr".
Description
The only Mecha-Beast not a product of the Great Western Forge, the TH1-DR is a custom-made, luxury model built by Blakk Industries. Every upgrade available has been incorporated: Level three hydraulics. Reverse pressurized turbo-connectors. Even a heated, leather seat!
Gallery
Ad blocker interference detected!
Wikia is a free-to-use site that makes money from advertising. We have a modified experience for viewers using ad blockers

Wikia is not accessible if you've made further modifications. Remove the custom ad blocker rule(s) and the page will load as expected.