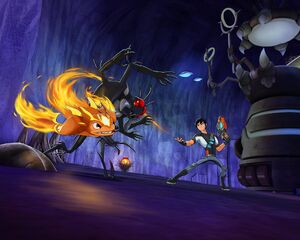 The Quake Cannon was a giant machine that was built for the sole purpose of reducing "SlugTerra" (The 99 Caverns) to rubble.
Details
Introduced in Slugterra: Slug Fu Showdown, Spirex intended to use this mysterious machine found in Arachna Cavern to cause the caverns to cave-in on themselves. It uses extremely powerful slugs like the Elementals to power and send the slugs flying to all four corners of the 99 caverns to reduce them to rubble, and this begin Spirex's "reign of the spiders".
Gallery
Ad blocker interference detected!
Wikia is a free-to-use site that makes money from advertising. We have a modified experience for viewers using ad blockers

Wikia is not accessible if you've made further modifications. Remove the custom ad blocker rule(s) and the page will load as expected.